TECHNOLOGY MATURITY LEVEL ASSESSMENT
Get clear on the current state of your law firm's technology with an IT assessment.
Great technology planning starts with an assessment. However, that's only one of the many benefits of an IT assessment. Other benefits include:
Identifying vulnerabilities and gaps
Setting an operational and security maturity baseline and risk levels
Improving your budget planning process
Controlling costs and learning best ways to invest your IT spend
Developing a strategic roadmap to achieve your pre-determined outcomes
Increasing technical requirements alignment with your evolving master security policy
We offer three IT Assessments:
Technology Maturity Level Assessment (TMLA)
All-Inclusive Assessment (TMLA + SMLA)
Technology Maturity Level Assessment (TMLA)
A Technology Maturity Level Assessment analyzes and measures your firm's IT systems in terms of consistency, dependability, soundness, and sophistication at the levels of design, operations, and management. Deliverables include an assessment, executive summary, report, score, roadmap and budget.
The Assessment
Our first action is a deep dive into your technology. We perform a vigorous control-driven assessment against your entire organization's maturity. This includes reviewing your IT infrastructure, configurations, assets, software, processes, and people. This mass collection of data and information allows us to identify any gaps and vulnerabilities in your IT. We also invest the time into learning about your business objectives today and well into the future. Everything we do during this stage of the process creates the foundation for developing a technology strategy that will maximize your company's growth and success.
Overall, this assessment will:
Identify gaps in your critical technology infrastructure and operations.
Determine your current operational maturity level and the desired level for your firm.
Compare and contrast your maturity level with other firms facing similar challenges.
Recommend and prioritize opportunities to improve your operations.
TMLA Executive Summary
High level view of your real-time operational maturity and desired outcomes.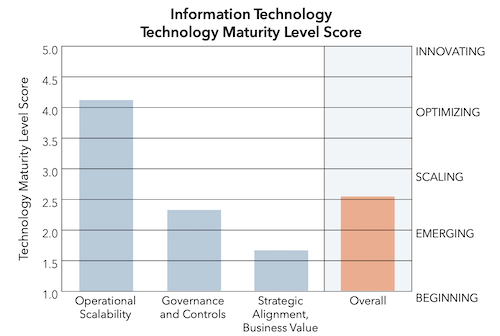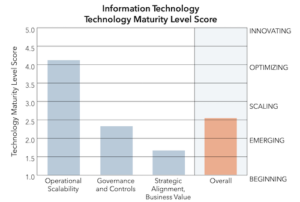 TMLA Report & Score
We'll then score your firm using the following five TMLA levels and their characteristics.
IT TMLA 1: Beginning
You don't have a clear view of your IT operations, infrastructure and systems. Your service quality and budget are unpredictable and IT systems are too flexible. In general, IT's strategic is undervalued.
IT TMLA 2: Emerging
Though your operations are still too flexible, your firm is developing an understanding of what you don't know. Your service quality and budget are still unpredictable and IT systems too flexible. You're aware of the need for IT's strategic value.
IT TMLA 3: Scaling
Your firm develops a basic understanding of the total cost of service quality. Reducing flexibility increases service quality and budget predictability. Basic business value is being delivered.
IT TMLA 4: Optimizing
Your understanding of the total cost of service quality increases from basic to good. Your firm achieves stringent standards that minimize flexibility and experiences strong service quality and high budget efficiency. Strategic alignment basics are in place.
IT TMLA 5: Innovating
Your firm integrates and ingrains a deep understanding of the total cost of service quality. The firm increases controlled flexibility and enables new lines of business/revenue by leveraging your technology. IT is integrated into or leads company strategy.
TMLA Roadmap and Budget
This roadmap will outline all recommended actions to improve your operational maturity and ability to anticipate costs. You have the capacity to plan your technology needs and budget 3-5 years into the future.
Benefits:
Increased operational efficiencies to support greater profitability.
Clear roadmap to assist in best investment of your IT spend.
Learn more about our Security Maturity Level Assessment (SMLA) here.
All-Inclusive Assessment (TMLA + SMLA)
Assess the maturity of both your IT operations and security at the same time by signing up for the TMLA and the Security Maturity Assessment SMLA. This comprehensive process will accelerate your progress towards your business goals by leveraging your technology. You'll benefit from increased operational efficiency and cybersecurity protection.
Please contact us for more information regarding this assessment.
"We're a relatively new firm that grew rapidly and didn't have the bandwidth or experience to scale up our IT infrastructure on our own. We're based in Century City, CA and focus on corporate, real estate, litigation, and bankruptcy law and have about 70 users. We found STS via our security vendor and when we asked our colleagues about them, we heard only good things. The first thing STS did when they came onboard was run an IT assessment and provide us with IT recommendations for our entire network. After we signed up with them, they got to work on improving our IT infrastructure to fit our current needs and allow us to scale as we continue to grow in the future. We've had a very positive experience and they are easy to get a hold of, responsive, and see everything through to resolution. They are also very knowledgeable, and we trust them to tell us when there will be issues and how to prevent or address them. It really is a great partnership."
Emily Lichtman - Director of Finance & IT | Sklar Kirsh
Ready to leverage technology to increase your productivity, protection and profitability?